Intereum Refreshed - Our Rebrand
Blog
Intereum Refreshed - Our Rebrand
Intereum is proud to announce the launch of a complete brand refresh. This encompasses all brand materials including the Intereum logo, tagline, website, stationery, color palette, and brand content.
To create a consistent, brand-driven experience for all clients, Intereum integrated the brand message and customer experience by bringing all company elements together. An important facet of the brand refresh was to establish a unified look with Herman Miller. As the only Herman Miller certified dealer in Minnesota, Intereum aimed to create a dealership presence connected and complementary to Herman Miller's strong reputation and iconic brand. Intereum's logo now features a new typeface and an updated color palette that will be seen on all brand materials.
"Intereum's business has evolved and it was time for the brand image to follow suit," said Principal and Owner, Matt Sveen. "Our goal with the brand refresh was to fuse all company elements together to create a memorable story. In a time when research and insight impacts workplace design, we wanted to extend our brand to a position that reflects our knowledge, experience and reputation."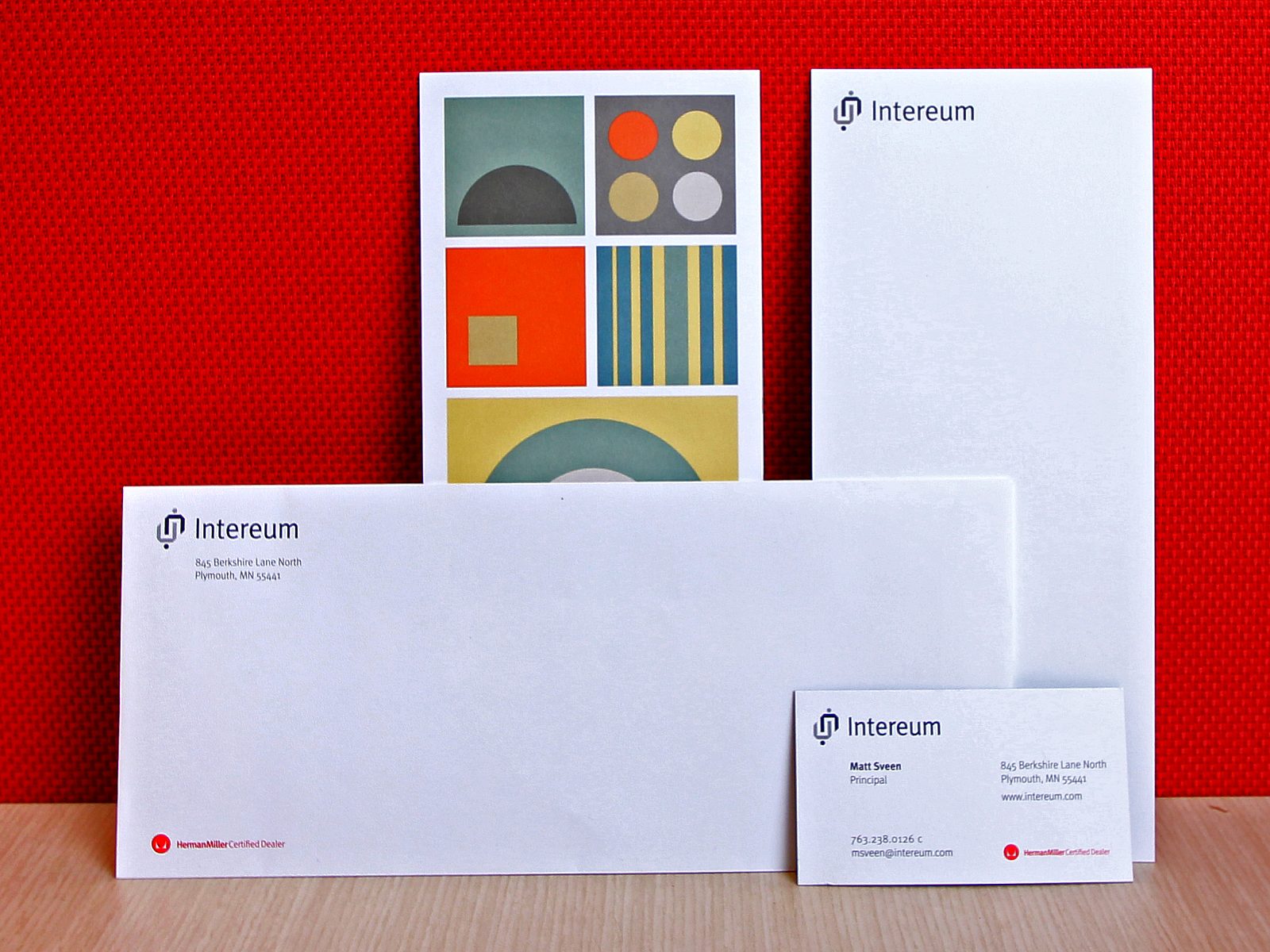 Internally, Herman Miller and the Living Office played an integral role in the brand refresh. The Living Office utilizes a high-performing design to create an elevated experience of work for people that assists organizations in achieving strategic goals. With new Living Office landscapes in the Intereum showroom, the setting empowers team members to provide exceptional service while relating to the needs and demands of client's office spaces. Integrated technologically and saturated with workspace culture, Intereum's showroom provides insight into the diverse range of products that meet various client demands.
"Our Living Office application not only enhances the client experience but also brings our brand story to life," said Bret Abbott, principal and owner. "Intereum transforms ordinary office spaces into extraordinary workplaces that are adaptable, customizable and flexible. With various product offerings tailored to suit company needs, our updated showroom exemplifies Intereum as a model dealer."
About Intereum: Intereum is the only Herman Miller certified workspace environment specialist in Minnesota and is consistently ranked as one of Herman Miller's top dealers in the nation regarding sales and service excellence. With business acumen, Intereum has grown to become a top regional choice for office renovation, reconfiguration or completely new office environments. For more information please visit www.intereum.com.